Bacon church fights atheist discrimination, wins NPR, HuffPo attention! @PraiseBacon http://bit.ly/1ORvPld
7 big secular groups protest Wells Fargo in Las Vegas @SecularPolicy @PraiseBacon http://bit.ly/1ORvPld
Do you reject discrimination against nonbelievers? Sign the @PraiseBacon petition! http://chn.ge/1z03YNB
Las Vegas secular protest makes three TV news shows. See clips @PraiseBacon http://bit.ly/1ORvPld
Promote us on Facebook
Does Wells Fargo discriminate against atheists? 7 national secular groups gathered in Las Vegas to protest! See the TV news clips and articles. https://unitedchurchofbacon.org/las-vegas-protest-exposes-wells-fargo-discrimination-against-atheists/
Do you reject discrimination against those who don't believe in God, known as atheophobia or secularphobia? Sign the petition of the protest church, The United Church of Bacon! https://www.change.org/p/wells-fargo-apologize-and-reaffirm-their-policy-of-non-discrimination-against-atheists
Press Release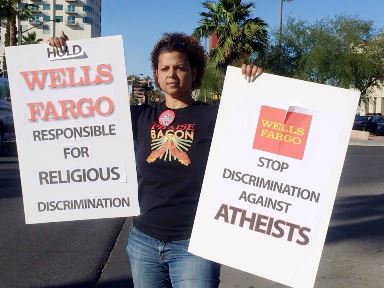 Las Vegas, Nevada
April 24, 2015
For two days last week, a protest in Las Vegas became the center of the secular movement, drawing leaders from 7 national secular groups. They assembled with more than 100 others to protest discrimination at Wells Fargo against atheists.
The protest was led by John Whiteside, who founded a legal church with a funny name to protest how religious organizations get special privileges under the law. His organization, The United Church of Bacon, now has 4,000 members. The church claims no tax exempt status. They pay their taxes. They accept no donations, instead raising nearly $100,000 in 2014 for autism, cancer, and secular charities. In 2015, they've already raised more than $30,000 for AIDS patients and another $30,000 for secular charities.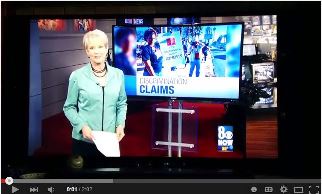 Last year, Whiteside visited the Wells Fargo branch at 1121 South Las Vegas Blvd, Las Vegas, Nevada, to have a church document notarized. The branch refused, and then was backed up by Wells Fargo's corporate office. While of course the bank admitted no discrimination, they also failed to give any other excuse, leaving Whiteside with a strong case that the bank simply didn't like his church's strange name and its atheist philosophy. That is discrimination. Discrimination against those who don't believe in God, or those who simply want greater separation of church and state, is known as atheophobia or secularphobia.
"Notaries may not reject a customer with a valid ID," said Whiteside. "Their personal opinion and what the document says are irrelevant. It's the law, and the National Notary Association makes it clear in their code of conduct. The only explanation for what Wells Fargo did is discrimination."
Whiteside is far from alone. He was joined by the leaders of six other national groups, the American Atheists, the American Humanist Association, the Military Association of Atheists & Freethinkers, the Secular Student Alliance, Secular Coalition for America, and Secular Policy Institute. Locally, he was joined by Sunday Assembly Las Vegas, Humanists and Atheists of Las Vegas, two podcasts from Hollywood, Ardent Atheist and Skeptically Yours, and numerous concerned citizens.
Media attention
Documentary Video
The Los Angeles podcast Ardent Atheist posted this video documenting the event, at https://www.youtube.com/embed/qYX2zAWNLnA.
About the Organizations
The United Church of Bacon is a real, legal church that was founded in 2010 to protest the privileges that religious organizations get in the law. They've raised nearly $100,000 in 2014 alone for other charities. See http://www.unitedchurchofbacon.com
American Atheist is the premier organization fighting for the civil liberties of atheists and the total, absolute separation of government and religion. The Military Association of Atheists & Freethinkers educates and trains both military and civilian communities about issues relating to nonbelievers in the US Armed Forces. The Secular Student Alliance empowers secular students to proudly express their identity, build welcoming communities, promote secular values, and set a course for lifelong activism. The Secular Coalition for America lobbies the U.S. Congress on issues of special concern to secular people. The Secular Policy Institute is the world's largest secular think tank and world's largest coalition of secular groups.
Click HERE for our media kit.
Media Contact
John Whiteside
info@unitedchurchofbacon.org
Photos
Below are photos courtesy of Mike Stotts of Backstage Access. Thank you! Contact us for full size images for press use.