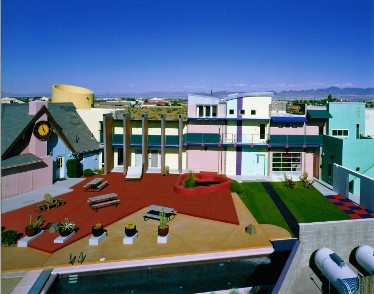 We have exciting news! Penn Jillette has moved into a new family-friendly home in the Las Vegas suburbs, and is selling his former mansion. A group of friends and the United Church of Bacon wants to buy the place and run it as an international atheist community center. We would be holding events to benefit atheist, skeptic, libertarian, secular charities, and of course holding bacon weddings on the property!
The United Church of Bacon is a real, legal church recognized by two state agencies in Nevada and two federal agencies. We can perform legal weddings and although we have never used it until now, as a church we have always had tax exempt status. Churches don't even need to apply.
In the past, the church has been entirely funded by John Whiteside, our founder, but as we are growing he can no longer afford to do this. So for the first time, we are applying to claim tax exempt status and accept donations, which will be tax deductible in the United States — and soon hopefully in the United Kingdom, where we have also applied for recognition.
Our dream is to be an efficient charity, with perhaps as much as 90% of funds raised given to good causes after our first year of setup costs. Long term, we'd like to be the most efficient church in giving to charity in the United States.
We are grateful to you who believed in us early, and we are working hard to live up to our potential of doing a lot of good in the world. We have already raised nearly $200,000 for other charities in the last two years.
Just think how much good we'll be able to do now!