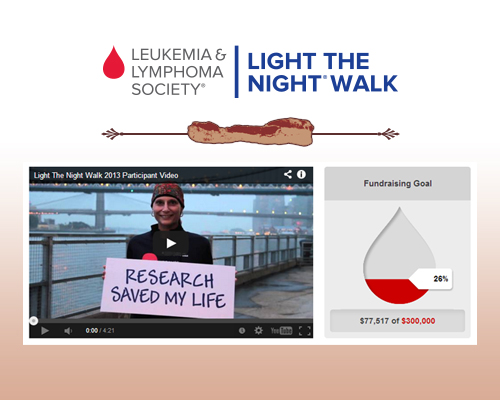 Members of The United Church of Bacon have pledged to match up to $4,000 raised by LV COR in support of the Light The Night Walk fundraiser for The Leukemia & Lymphoma Society.
Event date: Saturday November 2, 2013
Location: Charlie Kellogg and Joe Zaher Sports Complex
Address: 7901 W Washington Ave, Las Vegas, NV 89128
Additionally, we have partnered with the Foundation Beyond Belief team which is promoting participation in this event by secular groups around the world. Todd Stiefel and family has generously offered to match $250,000 of total combined donations by all Foundation Beyond Belief  teams worldwide.  This means your generous donation has the opportunity to be matched 2 times.

Please join our team's effort  by registering to walk or by making a donation today. Your participation in the Light the Night Walk will help save lives and Praise Bacon.