We don't run these podcasts, but our friends do. When you need to Praise Bacon, take a listen!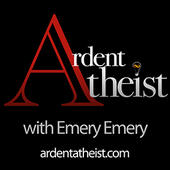 Ardent Atheist Podcast
Our official services are the Ardent Atheist and Skeptically Yours podcasts. Ardent Atheist is a comedy show hosted by Emery Emery and Heather Henderson that speaks to atheists around the world with its unique approach to discussing all things religious and non-religious with a diverse panel of high profile guests including comedians, actors, authors and many of your favorite, well-known anti-theists. The show features a wide variety of atheists, agnostics, deists, humanists, scientists, and even theists chatting, arguing and waxing comedic about atheism and the effects religion has on us all.
Emery Emery is a filmmaker, director, producer, and comedian who has worked with Penn Jillette and was the editor of the films The Aristocrats and The Green Room with Paul Provenza. He directed "Jake Johannsen: I Love You", Chris Porter's, "Screaming From The Cosmos" and produced "Doug Stanhope's, "Oslo: Burning The Bridge To Nowhere" as well as Teller's film, "Play Dead".
Heather Henderson is a singer, actress, editor, producer, and 10+ year burlesque veteran who got her start at the age of 16 as a co-host and mini dancing superstar of the nationwide TV show Dance Party USA. Her career then made the natural progression towards Sesame Street and roles in films like Mannequin 2 and the Disney film Annapolis.
---
Skeptically Yours Podcast
Skeptically Yours, also hosted by Emery Emery and Heather Henderson, invites comedians, actors, authors, scientists, and well-known skeptics to debate topics relating to skepticism such as conspiracy theories and urban legends. Even those who promote conspiracies make appearances on the show and are mercilessly held to the razor of reason.
---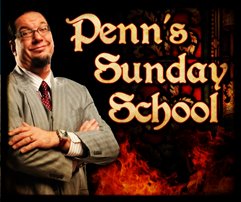 Penn's Sunday School Podcast
The official Sunday services of the United Church of Bacon is the Penn's Sunday School! Most people know Penn Jillette for being the loud part of the Penn & Teller magic show, which is Las Vegas's longest running show at the Rio Hotel and Casino. He's also a well-known atheist activist who is prominent in the skeptic and secular communities. Penn's atheist books include God, No!: Signs You May Already Be an Atheist and Other Magical Tales (2011) and Every Day is an Atheist Holiday!: More Magical Tales from the Author of God, No! (2012).
Each Sunday he hosts Penn's Sunday School, a podcast where he and friends talk about religious news, monkeys, show business, and anything else that seems funny or makes them mad. Penn is the United Church of Bacon's approved Sunday School teacher, so make sure to listen while worshiping bacon.