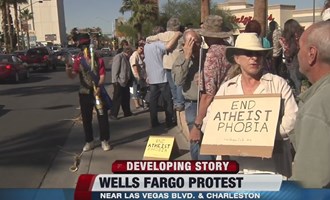 As you know, the United Church of Bacon is speaking out against Wells Fargo's treatment of atheists and minority churches, and its history of discrimination against other minority groups. We ran two successful street protests last month, generating national news, and Bacon Prophet John Whiteside was in Great Britain getting official approval by the United Kingdom for officiant services.
At the protest, we learned of more misbehavior, as you can see in this video.
Cassandra and Kevin from Sunday Assembly Las Vegas went into the Wells Fargo branch to closer their account, and asked if they could submit a reason why. They refused to allow this, claiming there was no space for that on the form. They refused to hear the reason verbally. We also were joined by a newcomer, who was not associated with the protest and decided to wear a mask for the video. He asked Wells Fargo staff what the protest was about and they pretended that they didn't know.
Now this week, Wells Fargo has made the news again for more misbehavior. This week the city of Los Angeles is suing Wells Fargo for encouragkng its employees to engage "in unfair, unlawful and fraudulent conduct" .
Click HERE for our media kit.