We Raise Money for Others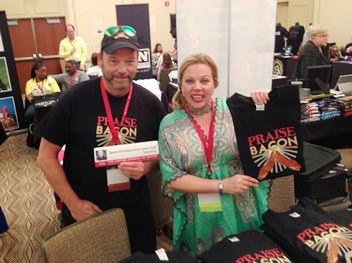 The United Church of Bacon does not accept monetary donations. We ask our members and supporters to donate directly to charities that are in line with our beliefs. In addition to sending donors to approved groups one at a time, we've also run major funding drives for select charities, often those in the secular community that support our goals of separation of church and state and ending discrimination against atheists.
Funds Raised
Since our inception in 2010 The United Church of Bacon has raised millions of dollars for AIDS, cancer, autism, and for other atheist charities, including the James Randi Educational Foundation (JREF), the Secular Student Alliance (SSA), the Secular Coalition for America (SCA), and American Atheists
Please consider contributing to one of the following recommended non-profits.
---
Recommended US Charities
These groups do good work that pleases the God of Bacon. Please donate, join their newsletters, and follow them on social media.
Recommended UK Charities
Marie Curie is there for people living with any terminal illness, and their families. They offer expert care, guidance and support to help them get the most from the time they have left.
Great Ormond Street Hospital for Children provides inspirational and world-class care to hundreds of children every day. But we need to raise over £50 million every year to help give hope to very sick children and their families.
Recommended US Secular Charities
Add Your Group
Should we add your 501(c)(3) charity to our list of recommended groups? Submit an application.