Why Become an Officiant?
Want to perform legal marriages for your friends and family? Getting ordained in the United Church of Bacon is the first step. Then you must apply to your local city or state through a clerk's office. (Just to reiterate, getting our certificate is not enough by itself to perform weddings. You must take your certificate to your local clerk's office and make a further application based on local and state laws.)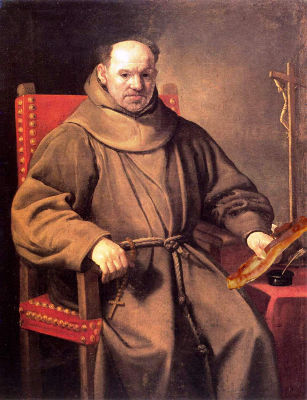 A friar always keeps Bacon at hand.
As a "friar" of the United Church of Bacon, you help others through their biggest life transitions. You speak words of comfort at a funeral. You channel their hopes and dreams for a newborn child's ceremony. You celebrate the best day of their lives when they get married.
You will play a central role in a day that they and their guests will never forget. And you can help them do it in a way that is meaningful to them, free from mainstream religions and God.
It's a wonderfully fulfilling way to make a difference in the world.
The Rules
Officiants must follow four rules:
Accept no gifts. As an officiant, you may not accept money or gifts for your work. Our church accepts no donations either. Instead, direct those you serve to give to the charities we recommend.
Keep it personal. We HIGHLY RECOMMEND you only perform services for people you know and love. As much as we wish it were otherwise, many people hate Atheists and non-believers and would love to make an "example" of one. In the current day and age, there is no way to guarantee the intentions of people who may request clergy on the internet, and we care deeply about your safety. We hope you will use your new title to officiate as many events as possible, but DO NOT ACCEPT REQUESTS FROM STRANGERS!
Be professional. We have a lot of fun with our bacon name, but we work hard to be good at our jobs. Make your ceremonies great. Adapt to the wishes of those you serve. Make us proud. Contact us for ceremonial ideas, or make up your own.
How to Get Ordained
Apply below and we will get back to you quickly. If you are approved, you will get a certificate that you can print and bring to your local clerk's office. They can direct to whatever other paperwork must be submitted. The United Church of Bacon is a real, legal church. If you get pushback and discrimination, contact us for help.
Is there a secret to getting approved? Yes! Don't send in a joke application or one-line answers. Let us get to know you a little. We have great fun with our bacon name, but for legal reasons, please apply only if you actually intend to perform officiant services, and tell us something real about yourself and your aspirations, so that we may consider you seriously. Nearly everyone who puts real thought into their application gets approved.