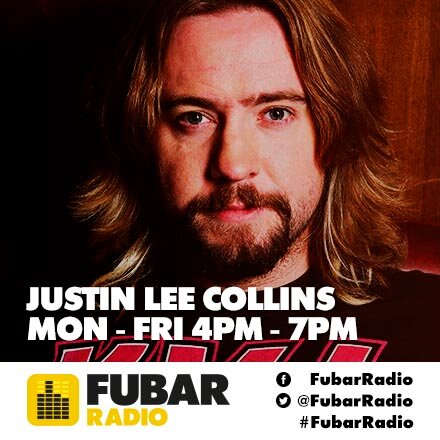 British celebrity Justin Lee Collins has won a United Church of Bacon award for outstanding service to the church: he has slapped another man on the buttocks with bacon.
He is the star of the Justin Lee Collins live show and podcast on FUBAR Radio. It's an entertainment show with a bit of a political message, a high energy firehose of comedy where they meet the most weird and wonderful people in the world. This of course included Bacon Prophet and UCB Founder John Whiteside when he visited Great Britain last month. FUBAR radio is Great Britain's only completely uncensored radio channel.
After meeting Prophet John, Justin became a fully ordained clergyman in the United Church of Bacon, known as Brother Good Times.
The buttocks slapping was part of the first ever physical baptism of a man in the United Church of Bacon. Producer and co-host Sam became blessed and as part of the ceremony dropped his pants, revealing underwear with a hole in it. The United Church of Bacon approves of holey underwear. The entire event was performed live May 12th in the United Kingdom on Episode 30 of Justin's show.
Next, Justin plans to get baptized himself and then to perform a FUBAR Exorcism, about which John Whiteside gave this advice:
Have a shark proof net handy
Ask a friendly veterinarian to give you a horse tranquilizer and a clean needle.
Distract the poor delusional soul, throw the net over him or her, and give the shot.
I researched the closest mental ward, it is Friern Hospital Call them, and tell them you have a take-away for them.
While waiting for the ambulance, calm the individual down with some Enya music, and agree with anything he or she says.
Plans are in the works for FUBAR Radio to become the headquarters for the United Church of Bacon in the UK and for us to apply for official recognition, which would allow clergy to perform legal weddings in Great Britain and for donations to the church there to be tax deductible.
In honor of Brother Good Times, we have added Marie Curie and Great Ormond Street Hospital for Children to our list of recommended charities that bacon lovers should donate to. In the last two years, the United Church of Bacon has raised nearly $200,000 for other charities in the United States and these are our first in Britain.
Follow FUBAR Radio at @FubarRadio and Justin Lee Collins at @iam_jlc.