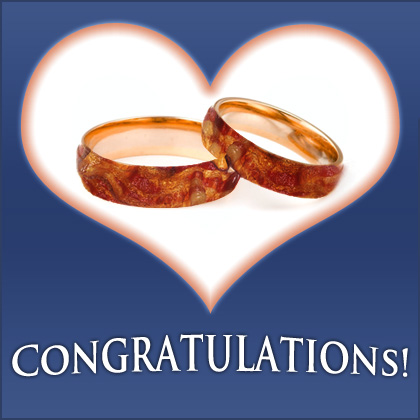 A lovely secular couple who wishes to remain private were married on February 8, 2014 in a small ceremony attended by family and friends at their home. The ceremony, officiated by Prophet John Whiteside of the United Church of Bacon, is the first wedding performed by our clergy and is legally recognized by Clark County, Nevada. (The Marriage Capitol of the world.)
The happy couple found the Lard from our regular advertisement placed in the religious section of the Review Journal, Nevada's largest newspaper and were thrilled to be joined in greasy matrimony.
As United Church of Bacon Clergy accept no payment for providing wedding services, but we simply request a donation be made to a worthy charity.
The first couple pledged a donation to The Secular Coalition For America. Should you wish to donate to any worthy charity in their name please do by by writing "Praise Bacon" in the memo line. A list of suggested charities can be found here.
Several other weddings are already in the planning stages by our very own Sunday school teacher Penn Jillette and updates will follow.
Feel free to join our congregation here or join our clergy here and help us sizzle.